I often find myself in Peterborough on business or pleasure, and noticed tonnes of signage for Faye's Bridal Show January 4th 2009. It was the electronic signage on Landsowne that really impressed me, and told me I should consider doing this Bridal Show.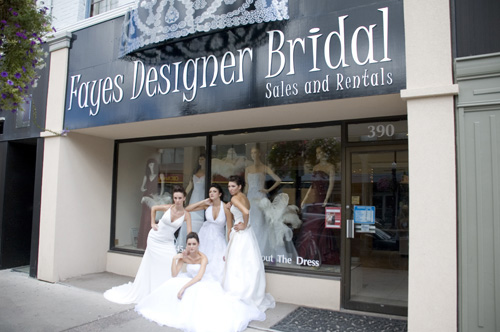 We've done Bridal Shows before and find they are generally not very well promoted except for the big ones, which are very expensive. They're a lot of work for the vendor but also for the poor tired bride! Frankly, I find that I generate most of my business through referrals or Facebook these days, and brides tell me they prefer to research us online and making the call once they are ready.
Sounds like I'm done with Bridal Shows…
However, the promotion that has obviously gone into this show, plus the promise that in past years the organizers have drawn over 3000 brides, tells me it might be time to reconsider my marketing for the season.
Please stop by and say hello! It's at the Memorial Centre on Landsdowne and Lock.
UPDATE: The show is COMPLETELY SOLD OUT, all the vendor tables are gone! At the very least we might be in the lobby near the sign-in booth. This is a developing story! This is going to be an awesome show!!!
UPDATE: We're confirmed! We have a primo spot right at the entrance thanks to the clever organizers, due to the fact that we're the ONLY videographers at this sold-out event! If you're east of Mississauga or west of Kingston you should plan to attend. Tickets are only $10 with free parking!